Bal Harbour Real Estate & Homes For Sale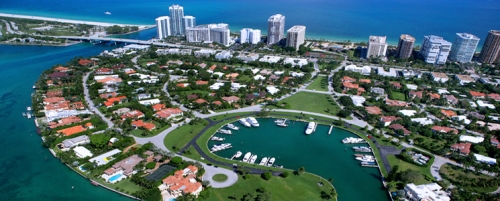 Bal Harbour is considered by many to be one of the Greater Miami Beach's most appealing and luxurious oceanfront areas. While residents and visitors come to Bal Harbour from all over the world, the community still retains a small town charm. The current population of Bal Harbour is about 3,500 residents. It features white sand beaches and beautiful blue water coupled with a peaceful and quiet atmosphere that makes Bal Harbour a great place to call home.
Luxury Miami Real Estate in Bal Harbour
Located in Miami-Dade County on the northern tip of the Miami Beach barrier island, Bal Harbour begins at 96th Street and ends at Haulover Cut. Incorporated in 1946, Bal Harbour is one of the oldest and most prestigious cities in the area. Although only one third of a square mile, Bal Harbour not only has superior Miami real estate, but also a large selection of shopping, dining and entertainment opportunities in its 245 acres. There are many types of properties available for homeowners in Bal Harbour including condos, single family homes, palatial estates and townhouses. Bal Harbour is synonymous with luxury and tranquility and boasts superior ocean and bay views from all around the community.
Bal Harbour Homes for Sale
Directly across Collins Avenue to the west are several low-rise residential buildings, single family homes and luxury bay front and waterfront estate neighborhoods. Those in the market for a single family home will find many neighborhoods to choose from, including a community that is completely walled in with a manned gatehouse. Both waterfront / bay front and dry lots are available. Many types of architectural styles are found in Bal Harbour, from single family mansions along the Intracoastal to midcentury modern homes located in the interior.
Miami Condos in Bal Harbour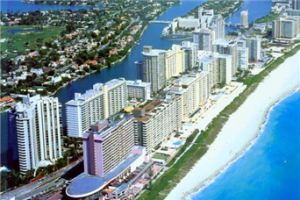 Bal Harbour is home to some of the area's best condominium developments. These Miami condos feature world-class amenities that specialize in resort-style living. Many of these condos on located directly on the beachfront, allowing residents to enjoy the sand and water 24 hours a day. Bal Harbour condo communities include:
The Bal Harbour 101
The Bal Harbour Tower
Balmoral
Bellini on the Ocean
Carlton Terrace
The Harbour House
The Kenilworth
The Majestic Tower
One Bal Harbour
St. Regis
The Tiffany of Bal Harbour
The Bal Harbour Palace
The Plaza of Bal Harbour
The Bal Harbour Community
Bal Harbour has a top-notch police department that takes the security of its residents and visitors very seriously. The ratio of police officers to residents is about 1 for every 140 residents. Police patrol the area in cars, on motorcycles and on bicycles. The city has one of the lowest crime rates in all of South Florida.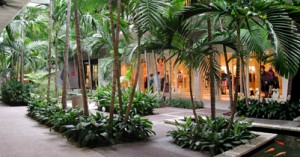 The community is home to the famous Bal Harbour Shops, which is considered to be one of the most complete collections of luxury fashion houses in the world, rivaling Fifth Avenue, Rodeo Drive and the Champs Elysees. Some of the shops found there include Tiffany, Bulgari, Escada, Chanel, Louis Vuitton, Hermes, Breuget and Prada. Visitors can enjoy the dine-in luxury movie theatre Cinebistro which is also a venue for special events and community parties. The shopping center includes several charming cafes such as Carpaccio, Lea's Tea Room, and the Bal Harbour Bistro. It is a fantastic destination for shopping, dining and of course, people watching. There are also more than a dozen restaurants located in Bal Harbour that offer an array of options from casual to fine dining. Bal Harbour features a $3 million jogging track along the beach that takes walkers, joggers and runners through the sand dunes and beyond. It begins at the southern boundary of the city where it connects with the Surfside path. The track is comprised mostly of hard-packed sand and gravel until it turns into paved brick behind the St. Regis at Bal Harbour. The path runs between hotels and the ocean for about two miles where it then ends at the Haulover cut passageway between the Atlantic Ocean and the Intracoastal Waterway, also a popular fishing location. The community sponsors Movies on the Beach and the Bal Harbour Art Nights on a monthly basis during the season. Here residents can also enjoy beach yoga, beach Pilates and a wide variety of water activities.
Getting Around Bal Harbour
Bal Harbour sits between the Atlantic Ocean on the east and Biscayne Bay on the west. It is equidistant from Miami and Fort Lauderdale. Nearby communities include Aventura, Bay Harbor Islands, Biscayne Park, El Portal, Surfside, Sunny Isles and Golden Beach. It is a quick fifteen minute drive to South Beach and is 18 miles from both Miami International Airport and Fort Lauderdale Airport. The community can be reached from I-95 by exiting at 125th Street and heading east on Collins Avenue.
More Information About Bal Halbour Real Estate
For more information about Bal Harbor Real Estate
CLICK HERE
to speak with Mark Zilbert.